[Dr.Hedison] Gold Activation Rich Cream
£64.99 – £117.99
Absorb enriched nutrients of 24K Gold into skin
Keep skin moist with active ingredients
Represent glow skin with rich texture
Description
The main ingredients of Dr. Hedison Gold Activation Rich Cream:
Colloidal gold 99.9% purification – a great antioxidant, perfectly matts the skin, soothes. Gold can have a complex effect on the skin. It slows down the aging process, stimulates metabolic processes, enhances self-regulation.
Colloidal gold has strong antibacterial and anti-inflammatory properties. Colloidal gold, therefore, helps prevent the infection and spread of skin lesions, such as acne. It normalizes the skin and leads to narrowing of the pores.
Clinical studies have confirmed the beneficial effects of gold.
Important information for those who use colloidal gold in cosmetics – it is non-toxic and easily digestible. Does not cause sensitization. Also used in aesthetic medicine.
In addition, a gold thread is used, which is implanted under the skin for muscles and prevents sagging skin.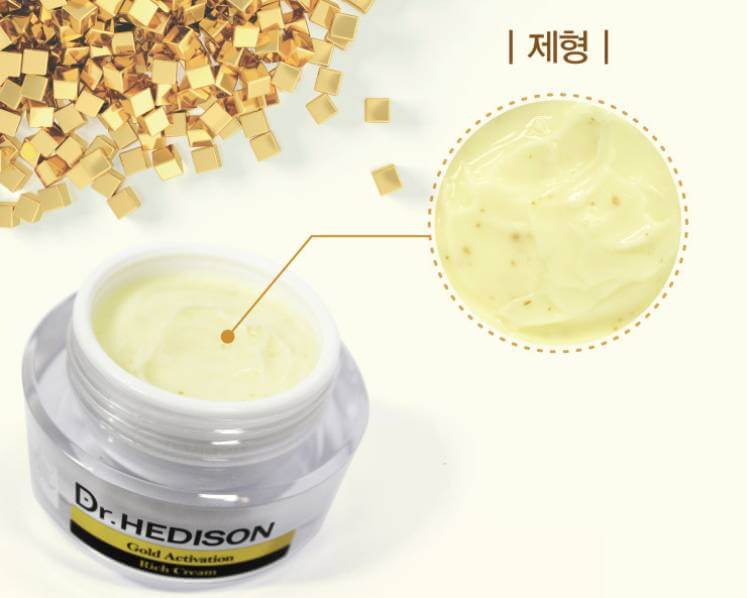 Camellia sinensis leaf extract (Camellia leaf extract)
Due to its strong antioxidant properties, protects the surface layers of the skin from the harmful effects of solar radiation and free radicals, slows down the aging process of cells. It also moisturizes, relieves irritation and soothes the skin. Camellia extract contains a large number of biologically active substances, including polyphenols, tannin, vitamins A, E, C, group B, coenzyme Q10.
Meadowfoam seed oil
Vitamin E in active form (α-, β- and γ-tocopherols), fatty acids (palmitic, oleic, stearic, arachinic, linoleic, α-linolenic, erucic, gadoleic).
Cream with pennik oil, can be used for oily skin, and for dry. It well moisturizes, nourishes and soothes the skin, has a protective function, creating the thinnest film that prevents the evaporation of moisture. It also rejuvenates the skin effectively, eliminating wrinkles and signs of aging.
Adenosine
It is an amino acid that forms in cells through metabolic cellular energy. Adenosine is good enough for use day and night. This is one of the most progressive ingredients of the new generation, which it was named by the Korean Food and Drug Administration. While Vitamin C and Retinol, the well-known anti-wrinkle ingredients, are significantly weakened by exposure to light and heat.
Acetyl hexapeptide-8
Argireline is an alternative to botulinum toxin, acting on the same wrinkle formation mechanism, but in a different way.
Properties:
A unique anti-wrinkle peptide, proven to be significant against skin wrinkling, is an alternative to Botulinum Toxin A, applied externally.
The first muscle relaxant for external use, a non-injection alternative to botulinum toxin. Significantly reduces the depth of facial wrinkles.
After application to the skin, Argireline is able to penetrate the basal layer of the epidermis, to the ends of the nerve terminals, where it modulates muscle contractions, namely: relaxes the muscles.
Thus, by weakening muscle contractions, Argireline eliminates the main cause of expression wrinkles. As a result, facial wrinkles on the forehead, in the outer corners of the eyes, near the mouth are eliminated. Deep wrinkles are smoothed out and new ones are prevented.
Argireline based preparations (acetyl hexapeptide) are a new generation of biologically safe cosmetics, which are an alternative to BOTOX injections. These drugs are non-toxic, have no side effects and are well tolerated by the skin.
The basic principle of hexapeptide action is similar to that of Botox – it is a reduction in facial muscle contraction. The main difference between the action of acetyl hexapeptide and that of BOTOX is that the hexapeptide only slows down the conductivity of the nerve impulse and thereby gently relaxes the muscle, while botulinum toxin completely stops the transmission of impulses between cells and can have a noticeable effect on facial expressions.
Clinical studies have shown a 27% reduction in wrinkle depth after 30 days of application and inhibition of the formation of new wrinkles.
Volume: 50 ml / 200 ml
Only logged in customers who have purchased this product may leave a review.